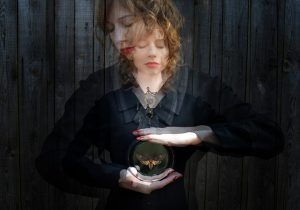 Writers of The Seduction of Christianity referred to the spiritual drift they saw in 1985 as an obsession with "selfism and sorcery." Full quote: "With the leading psychologists and psychiatrists so heavily involved in selfism and sorcery, Christian psychology inevitably succumbs to some of the same delusions and brings them into the church." (p. 31)
Selfism
The Seduction of Christianity quotes reporter Martin L. Gross as saying, "We live in a civilization in which, as never before, man is preoccupied with self." (p. 29) Remember, that was 1985. Some people think that L. Ron Hubbard's Dianetics (published in 1950) was the beginning of the avalanche of self-help books that have followed.
Regardless, we certainly can't seem to get enough of self-help today either.
As just one example, look at wording in current promotions of the Enneagram. One reader of Morgan Cron's book The Road Back to You: An Enneagram Journey to Self-Discovery criticized the book's containing some form of the word self more than 160 times (in the subtitle and then terms like "self-knowledge," "self-actualized," "original shimmering self," etc.). And Chris Heuertz's The Enneagram of Belonging: A Compassionate Journey of Self-Acceptance has a "self" word in the subtitle, and the press release says the book will guide readers to practice "self-compassion."
Just saying.
To really go after "selfism," we can't do better than the final pages of C. S. Lewis's book Mere Christianity. Here are just a few lines from there:
"The more we get what we now call 'ourselves' out of the way and let Him take us over, the more truly ourselves we become. … At the beginning [of this discussion] I said there were Personalities in God. I will go further now. There are no real personalities anywhere else. Until you have given up yourself to Him you will not have a real self. … The very first step is to try to forget about the self altogether. … Look for yourself, and you will find in the long run only hatred, loneliness, despair, rage, ruin, and decay. But look for Christ and you will find Him, and with Him everything else thrown in."
Since 2 Timothy 3:1, 2, 5 says "There will be terrible times in the last days. People will be lovers of themselves … having a form of godliness but denying its power," it's good to step back and examine our focus and our motives.
Sorcery
The Seduction of Christianity authors wrote: "Paul Yonggi Cho declares: 'Through visualization and dreaming you can incubate your future and hatch the results.' Such teaching has confused sincere Christians into imagining that 'faith' is a force that makes things happen because they believe. Thus faith is not placed in God but is a power directed at God, which forces Him to do for us what we have believed He will do." (p. 24–25)
Chew on that for a minute. Aiming our own power at God vs. actually having faith in God.
Trying to use some ritual or object to enhance communication with God or to conjure desired results is sorcery. Period. I've touched on the topic of sorcery several times. Here's one post.(You can also search this site for the tag or keyword "sorcery.")
And I'm glad to steer readers to this piece by Dr. Jack Cottrell, "The Medium of Endor (1 Samuel 28)." Here Dr. C employs his usual verbal precision, drilling down to answer the question of why God seemed to "allow" sorcery in this situation.
Selfism and sorcery. Got no business being in the church.