In March 2020, Pope Francis went to a specific church to pray in front of a certain crucifix, asking for a stop to the coronavirus. Apparently this crucifix had survived a church fire in 1519 and was, therefore, labeled as sort of miraculous. Then three years after that fire, a plague was supposedly stopped in its tracks because of this same sacred object. Pope Francis had also prayed before a statue of Mary at a different church. This Mary statue had been carried in a processional hundreds of years earlier to stop a plague—and had also been prayed to in the 1800s in hopes of the end to a cholera outbreak.
I don't mean to pooh-pooh anyone's sincere prayers to the Lord for help. I'm going after the pagan idea that the use of supposedly magical places and objects will make answered prayer more likely. (We'll save the topic of praying to Mary for another time.)
(Sidebar: During March 2020 there were several news articles about Catholic churches removing the holy water fonts to avoid spreading the coronavirus. Many people—including at least one atheist website—couldn't help seeing the irony. After all, if this sacred water is infused with the Lord's own power, what could be the danger?)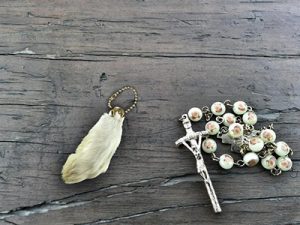 My sister had been recalling that in our childhood it was popular to carry around a "lucky rabbit's foot." And we were discussing how silly that was. We have the Lord himself right with us, and he says, "Is anything too hard for me?" (Jeremiah 32:27). So what are we doing when it comes to such objects? Are we thinking, OK, I need major help. So I'll keep my lucky rabbit's foot in my pocket all day. If the Lord can't manage things all by himself, maybe he can use this hunk of dead animal to increase my odds?
Duh.
Yes, in the Bible there were a few "sacred places" (like the tabernacle, the temple) and a few "sacred objects" (like the ark of the covenant). But the only legit ones—that is, truly sacred in God's eyes—were things that the Lord himself, not people, so designated. And their use was limited to his very specific purposes. There's nothing in Scripture indicating that we need to be near a certain location or a certain object just in case Almighty God has trouble connecting with our prayers. Read more in my "Nothing Sacred" handout.