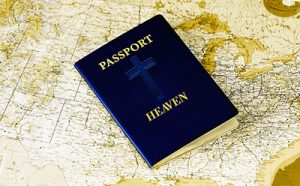 As 2020 became more saturated with stress, lies, fear, and violence, I found myself singing the old song "This World Is Not My Home." As a child in the '50s and '60s, we sang this all the time at Sunday night youth group, church camp … It was cool that it was about Heaven, but I mostly loved the beat, loved the feel of it. Surely I never grasped the significance of the words "I can't feel at home in this world." That is, not until moving to Japan (1975). Being surrounded by people who didn't look like me and who spoke a strange language wasn't always comfortable. Whereas, I'd felt quite at home back in my old Kentucky home!
In Japan whenever we had business at city hall, we had to stand in the line marked "ALIENS." Maybe that's how I began to grasp what the apostle Paul meant when he said, "Our citizenship is in heaven" (Philippians 3:20). Maybe believers should always feel a bit alien anywhere "in this world." And I don't mean just when there's general discomfort.
After all, if believers are seriously living for and speaking out for the Lord, wouldn't there also be some sense of feeling out of the loop, if not getting outright negative response? And it's worse when the actions of one bad Christian cause people to lump all Christians together—and give us a look that says, "Oh, I see. You're one of those people." Alien.
God's Word gives these descriptions:
"I am a stranger on earth" (Psalm 119:19).
"We are looking for the city that is to come" (Hebrews 13:14).
"To God's elect, strangers in the world," begins the letter of 1 Peter (1:1). And that idea repeats with: "I urge you, as aliens and strangers in the world …" (2:11).
With this song on my mind (and with nostalgia tears), I started looking for an online performance. Was amazed at how many different styles "This World Is Not My Home" has been recorded in!
Here's a Gaither-ish version.
Here's a black gospel performance.
And country.
Didn't look further. But it seems likely that this song has also been translated into other languages. So many Christian songs have. Kinda fun to imagine people all over the world singing to (and about) the Lord in assorted styles and languages.
Sure, we can enjoy all that the Lord has provided in this world. And we must remember that we're with him, regardless of a current address. But in any kind of uncomfortableness (?), it's also good for believers to remain confident that it's not permanent. We're "just a-passin' through."
Keep singing!