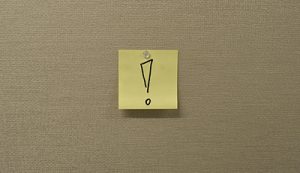 In C. S. Lewis's book 6 of the Narnia series, The Silver Chair, Aslan has given the children four signs to remember, which will help them through their upcoming treacherous journey. Aslan urges them to "remember, remember, remember the signs. Say them to yourself when you wake in the morning and when you lie down at night, and when you wake in the middle of the night. And whatever strange things may happen to you, let nothing turn your mind from following the signs." Of course, that sounds very like Deuteronomy 6:6-9: "These commandments that I give you today are to be upon your hearts…. Talk about them…. Write them…."
Aslan further warns that when the children leave him and actually get in the middle of things, there's a danger of their becoming confused. So he urges: "It is so important to know [the signs] by heart and pay no attention to appearances. Remember the signs and believe the signs. Nothing else matters" (p. 27 in my copy of the book).
The metaphor as relates to the Scriptures is…WOW!
Young people want magic books, secret codes, and such. Well, we kinda have that in God's Word. I mean, it's not magic in the usual sense, and it's not actually secret. It's just that we have there—right in our hands!—exactly what we need to know and live by, the "secrets" we're looking for. Yet we tend not to follow in the same strict way that the Narnia children were directed by Aslan to do.
To further illustrate, later in The Silver Chair, a certain Knight is tied up. There's some confusion about whether he should be released. Is he the good guy he claims to be, or is this some sort of deadly trick? And yet the children are forced to recall that one of Aslan's signs indicated that this release should occur. Their fear is holding them back from following through. Jill bemoans, "Oh, if only we knew!" Of course, she means she wishes she could be sure that only good things will happen if they release the Knight. And Puddleglum responds, "I think we do know."
Scrubb asks, "Do you mean you think everything will come right if we do untie him?"
And Puddleglum responds, "I don't know about that…. You see, Aslan didn't tell [Jill] what would happen. He only told her what to do. That fellow will be the death of us once he's up, I shouldn't wonder. But that doesn't let us off following the sign" (summarized from p. 167).
Do what Aslan said, no matter what.
Doesn't our hesitation to follow God's way often come because we imagine that something bad might happen if we do so? But—as Puddleglum understood—isn't that irrelevant? The Lord told Joshua to obey his commands without turning from them "to the right or to the left" (Joshua 1:7). The Lord didn't say, "Obey me unless you think it might not work."
Isaiah 30 emphasizes the lesson. God's people weren't interested in his directives. Their attitude was "Leave this way, get off this path, and stop confronting us with the Holy One of Israel!" (v. 11). The Lord wanted them to come back to him so they could hear his message: "This is the way; walk in it" (v. 21).
Remember, remember, remember.