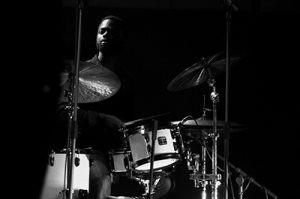 A few years ago on a Wednesday night, our gospel choir was practicing for Sunday. The song was all about the blood of Jesus. Suddenly in the middle of practice, out of nowhere, the thought came: He's gonna try to stop it. I felt in my heart that the enemy would try to stop us from singing this song on Sunday. I almost interrupted the director to say this and suggest that we pray, but I didn't. (People might think I was being silly?)
On Sunday morning, we were in the last-minute run-through, but the soloist hadn't arrived. We were starting to sweat. Suddenly she crashed in, in full hysteria, shaking. Said, "My baby is sick. Vomiting. I've tossed him, naked, into the nursery. Ooooh, I don't think I can do this." Naturally, the director stopped things and prayed right then. We got through the song quite well. And was it my imagination that, toward the end, what felt like a fresh mountain breeze filled the sanctuary?
I'm sorry (especially for the soloist) that I didn't stop Wednesday choir practice and pray. We do know that since the blood of Jesus is about our salvation (see Hebrews 9:24-28; 10:10, 19-22; and 10:29—wow), Satan surely hates any rejoicing about it. Dark mischief should be no surprise.
Here's the Brooklyn Tabernacle Choir singing the song in question, "Covered." Pray and sing!