To drive away the darkness, I sometimes read Scripture out loud (and have advised friends to do the same). But if you feel even too oppressed to do that, turn on some black gospel music—real loud.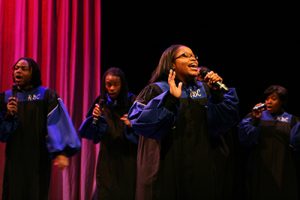 I love this rendition of "He Never Failed Me Yet." But at some point, I noticed a nuance in the words that I hadn't picked up on before. It says that I will "give thanks . . . for all the dangers, toils, and snares that he has brought me out." I've taken that to mean giving thanks for having been brought through (and of course, we should!). But strictly speaking, it says give thanks FOR the dangers, toils, and snares themselves. The Scripture "Give thanks in all circumstances" (1 Thessalonians 5:18) came to mind. It's hard to feel thankful for tough times. But they do provide the chance for the Lord to strut his stuff—as he "brings us out"—and for us, then, to recognize his power, provision, love, bigger plan, and general awesomeness.
When I originally posted those thoughts on Facebook (5/7/18), someone commented that the "yet" in the refrain "He never failed me yet" could have a negative implication—as if God might fail me in the future.
I didn't reply at the time, but what occurs to me is: If you will hear (or sing) these words in the tone of a sassy black sister or a powerful black preacher . . . the "yet" will not imply any future possibility of failure at all. Rather, it will convey what I believe the songwriter intended: The Lord hasn't failed so far—and there's no chance at all that he ever will!