The Parliament of the World's Religions meets every year. One of the speakers in 2015, Diana Butler Bass, has written a book, Christianity After Religion. The cover advertises "a renewed faith that stays true to the real message of Jesus." Inside, the book refers to past "awakenings" and then says that "this [next] awakening is different," that it's "not about . . . being washed in the blood of the Lamb" (p 99).
Interspiritual efforts, in general, reflect the idea that humankind is inherently good and can create a perfect world. Aspects of any religion that conflict with other religions must be downplayed. So the Christian teaching about sin that requires a savior is a problem; Jesus' real message is portrayed as the love/compassion/peace side without the redemption side.
At about the same time I saw that "blood" quote, I'd started reading Jack Cottrell's book What the Bible Says About God the Redeemer. Right off the bat we read: "The Bible is filled with what we may call the language of redemption" (p. 11 in the edition I have) and "The biblical writers can scarcely think of God without thinking of salvation." (p. 15) Let's look at some of the Scriptures: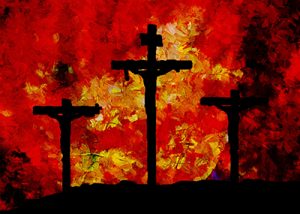 Peter tells believers, "You were redeemed . . . with the precious blood of Christ, a lamb without blemish or defect" (1 Peter 1:18, 19). "God . . . loved us and sent his Son as an atoning sacrifice for our sins" (1 John 4:10). Revelation 5:6-9 declares "the Lamb" to be "worthy" because "with [his] blood [he] purchased men for God."
I tremble at the idea of a supposed spiritual "awakening" that positions me as one who "has trampled the Son of God under foot, who has treated as an unholy thing the blood of the covenant that sanctified him" (Hebrews 10:29). Whoa.
In love, we can pray for (and reach out to!) people who haven't grasped (or have rejected the teaching) that Jesus "appeared once for all . . . to do away with sin" (Hebrews 9:26) and that he is "the source of eternal salvation for all who obey him" (Hebrews 5:9).
Because it IS about being washed in the blood of the Lamb.