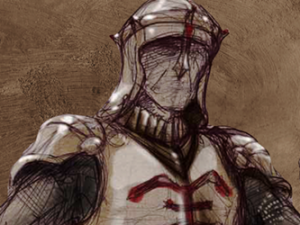 I have this idea that the sound of strong Christian music or reading Scripture out loud, as well as behaving boldly according to the Lord's truth, affects the enemy and his minions like fingernails on a chalkboard. I picture them putting their hands over their ears and fleeing. How about making that happen more often?
Consider the kidnapped child who sang "Every Praise" … until the kidnapper released him. (If that link doesn't work, search around for another report, using some of these key words: Willie Myrick, kidnapper, gospel song, every praise, 2014.) Watching that 4-minute video, I realized that the child used every piece of the armor of God! Here are the names of the armor pieces (from Ephesians 6:10-18) and my jottings of what I saw that illustrated each one. (You might notice other things!)
BELT OF TRUTH
The child has knowledge that God is with him.
He knows that God has "mysterious ways," that God has power.
BREASTPLATE OF RIGHTEOUSNESS
(remember that righteousness basically means "right")
Singing praise to God was righteous/right.
Behaving in faith was righteous/right.
SHOES OF READINESS FROM THE GOSPEL OF PEACE
The child was ready (equipped) to "walk" the Lord's path and to share about the Lord—through his behavior and his singing.
The child had a kind of peace—which frustrated the kidnapper (who needs the Lord's peace too!).
Of course, the resulting publicity of this whole incident "traveled"—presenting a wide audience with a powerful gospel testimony and example!
SHIELD OF FAITH
Grandma teaches the child the importance of faith.
He behaved in faith, despite fear.
HELMET OF SALVATION
Song words declared, "God my Savior … God my deliverer."
The child seemed to know that he was "safe," in some sense, no matter what might happen.
SWORD OF THE SPIRIT (THE WORD)
Grandma teaches a love/respect for the Bible.
The child learns from the Bible every Sunday at church.
He studies personally.
He memorizes Scripture (and so is able to draw from that during tough times).
---
This video would be good to watch together (and discuss) as a family or with a class of kids/teens. Betcha can't get through it without awe and tears!
To obtain a GREAT fiction series about five high schoolers and the armor of God—(and my friends know it takes a lot for me to recommend books!)—check out Elijah Creek & The Armor of God.