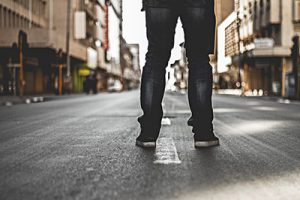 My church has recently used Michael W. Smith's song "Surrounded (Fight My Battles)," just singing a few rounds of the two repeating lines. It seems to have had a profound effect on the congregation. Here's my take on why:
We are in a battle, soldiers in a spiritual battle. It's good to acknowledge that. Paul likens Timothy to "a good soldier of Christ Jesus" (2 Timothy 2:3). And there's the whole armor of God idea in Ephesians 6:10-18.
But the Lord fights for us. And he has another army at his disposal: the angels. Where newer Bible versions use the term "Lord Almighty," the King James Version says "Lord of hosts." The Hebrew meaning of that word hosts is "armies." (Of course, the Lord has power over any army, but it's kinda cool to think of him with his army of angels.)
Yet another army is the topic of 2 Kings 6. A vast enemy army was threatening Israel (v. 8), and Elisha's servant was terrified (v. 15) at being surrounded by this danger. So Elisha prayed that the Lord would let the servant see reality, and the servant saw the army of God's angels surrounding the area (vv. 16, 17). It only appeared that Israel was outnumbered. The enemy was defeated.
The song word this in "this is how I fight my battles" could apply to singing—that one of our weapons is the act of singing praise to God. That's what happened in 2 Chronicles 20:20-30. Judah's King Jehoshaphat ordered the singers to march at the head of the army as they went toward battle. As the people sang and praised, the enemy invaders turned on and attacked each other! God's people won "without firing a shot."
Also see 2 Kings 2:11; Psalm 34:7; Matthew 26:53.
I think the members of my church are recalling various of those aspects when we sing the song. And reminding themselves to keep that truth in mind during the coming week. At least, that's what I'm doing.