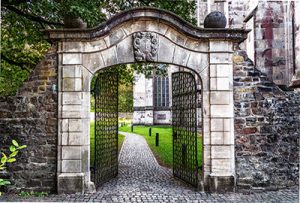 Hebrews 10:19-22 says, "Since we have confidence to enter the Most Holy Place by the blood of Jesus, by a new and living way opened for us through the curtain, that is, his body, and since we have a great priest over the house of God, let us draw near to God with a sincere heart in full assurance of faith." (Also see Hebrews 4:16.)
What more do we need as evidence against the idea that we must discover secret strategies for getting through to/communicating with God? Given what he says here, it seems rather insulting to him. The idea of our trying to work hard to make a connection makes me picture someone pounding on his friend's door when the friend has already unlocked the door in happy anticipation of the arrival.
The whole point of Mark Batterson's book The Circle Maker was to teach us a strategy whereby God would be sure to hear/answer our prayers. One review of Batterson's The Circle Maker for Kids criticizes even further: "The Circle Maker teaches us that we can unlock a secret code by which we can have God do what we ask…. We get to have authority over God and get what we want, regardless of what God wants…. Don't get in a circle and ask God for things he doesn't want you to have. Get in the Bible and learn what type of man or woman he wants you to be and start being that."
Amen. In that posture we can approach his open door with confidence.