Once at my daughter's church in Seattle, the guest Sunday school speaker described the life and work of the late Japanese Christian artist Sadao Watanabe, under whom she had studied. Watanabe had been looking for peace, when he read Jesus' words in a Bible: "Come to me, all you who are weary and burdened, and I will give you rest" (Matthew 11:28). He knew that's what he'd been seeking. He devoted his life to the Lord and to portraying the Bible stories/truths in art for his people.
This is now the second Japanese person I've heard about whose life was changed by that single Scripture verse. The other person, a lady with debilitating emotional illness, walked past a church one day and saw that Scripture verse on the sign. She literally ran to it. She herself testifies (as do her friends) that she is a different person. I think that when the Bible says "the word of God is living and active" (Hebrews 4:12), it means that . . . um, the word of God is living and active.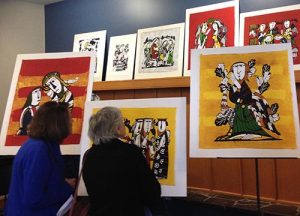 Back to artist Watanabe: He wanted to use his art to help his own people understand the Lord and the Bible. Everyone said that Mr. Watanabe wouldn't be able to make a living selling Christian art in the non-Christian country of Japan. But he did. A former student of his said that Mr. Watanabe's "formula" for illustrating any given Bible account was: 1) Read the passage of Scripture. 2) Meditate on it. 3) Pray. 4) Create the picture. Hmm . . . Maybe there's a lesson there somewhere.