I heard several sad reports in March 2018 about ever-increasing problems related to student loan debt. The amount of debt seems worse and worse, graduates wanting to declare bankruptcy . . . I've been shouting the solution for a long time: don't apply for student loans in the first place! (Think about it. What sense does it make to give a loan to a kid who won't even have any income for the next 4 years? The students may not grasp the implications, but we adults who love them should.)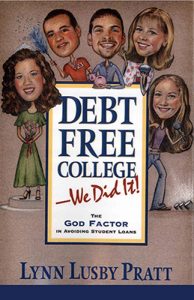 Students don't have to take loans! The message of the book I wrote in 2003 (Debt Free College—We Did It!) still stands. It's not gimmicks or secret places to find scholarships . . . none of that. Bottom line: just stand firm. The book is merely the honest play-by-play of what happened to some students who said no to student loans and took the adventure as it came. And guess what—it wasn't all that hard and didn't take much extra time. They're sure glad they did what they did! And so are others who bought into the plan. (Though you must brace for pressure from college staff and peers who think you're crazy.) See a few sample pages from the book at Google Books, and see a few reviews at the Amazon link above.
If you're a Christian who already has student loan debt, listen, don't file for bankruptcy. Read these Scriptures (in this order): Psalm 37:21; 25:1-5; 27:1; 18:1-31; Exodus 14:13, 14; Ephesians 3:20. (And you may want to read them again—out loud.) Throw yourself on the Lord's mercy, and let him turn your situation into a WOW story that will free you and be a witness/help to others.